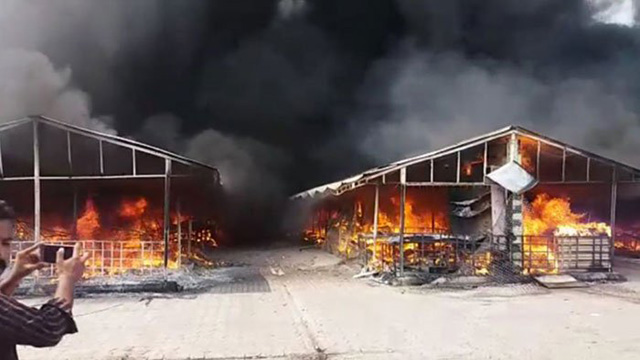 Breaking News: Islamabad's 'Sasta Bazaar' caught fire on Wednesday morning, according to the police.
Rescue officials succeeded in extinguishing a major part of the inferno which spread across the city's Sasta Bazaar in Sector H-9 earlier today.
It was feared that the fire would not be doused easily as the market contained garments and other goods that easily caught fire. Moreover, rescue officials feared the shifting winds further aided the spread of the blaze.
However, around 12 fire tenders and dozens of firefighters were able to douse the flames along with help from local shopkeepers.
The inferno gutted more than 600 stalls, said officials.
Rescue officials claimed the fire was caused by shopkeepers who lit up garbage close to the market.
Initially, officials said at least 10 clothing stalls were engulfed by the inferno, adding that five fire tenders were on site while at least two more 'main bowsers' of the Capital Development Authority were called in.
The site, situated in Sector H-9 near Peshawar Mor, is frequented by scores of residents as it hosts the weekly budget markets.
Rescue officials said initially that they hope to contain the fire shortly as they were able to reach the shops engulfed by flames owing to the well-planned structure of the market.
Officials believe the fire spread after locals lit up garbage in order to dispose of it, with the wind causing the fire to spread to the stalls nearby.
However, as the fire spread unexpectedly, shopkeepers rushed to save their livelihoods by extracting all they could from their stalls.
This is a developing story and will be updated as reports come in.